Generator Repair Capabilities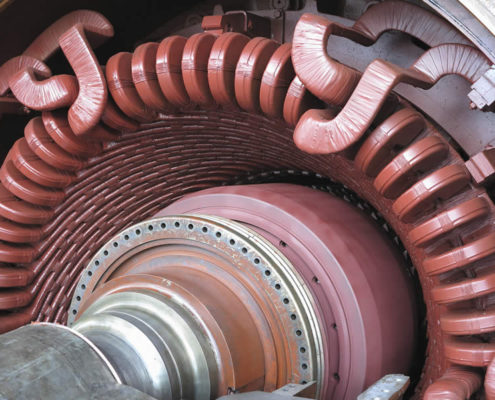 To keep outage windows at a minimum, our generator service group is turn-key and field based, providing stator and rotor inspections and most repairs at the plant site.  Some common repairs include:
Stator re-wedging

Rotor retaining ring removal / replacement

Stator core repairs

End winding repairs

Rotor and Stator Rewinds
Generator Testing Programs
GRIP 1,2, and 3 (Generator Reliability Inspection Program) Testing Programs
The GRIP inspections are built around outage durations for typical turbine inspections; thus the generator never becomes the critical path of the outage unless an outage is planned specifically to address major maintenance on the generator
GRIP 1: This rotor-in inspection program is designed to fit in a 1-2 day turbine outage window
Visual and Borescope inspection of stator windings, rotor windings, associated blocking (as accessible), stator core step iron, and fingerplates

Perform tests of Resistance Temperature Detectors (RTDs), stator windings, and rotor windings

Stator Winding Tests: Insulation Resistance, Polarization Index and Copper Resistance

Rotor Winding Tests: Insulation Resistance, Polarization Index, Copper Resistance and AC Impedance

Exciter Inspection: Visual inspection and Insulation Resistance testing
Benefits
Reveals pending faults in windings of the stator, rotor and exciter

Reveals deterioration of stator winding insulation caused by partial discharge activity or end winding vibration

Establishes a baseline for evaluating future inspections and input for establishing planned major maintenance activities

Written and digital documentation of critical generator components for planning future maintenance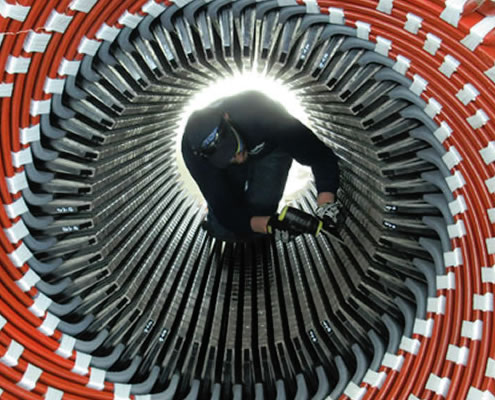 GRIP 3: This rotor-out inspection is designed to fit in a Major Inspection turbine outage window Inspections / Tests Performed
GRIP-1 and GRIP- 2 tests and assessments, plus:

Additional Stator Winding Examinations: El CID core test, and Wedge Tightness Mapping

Additional Rotor Winding Examination: Retaining Ring NDE Inspection (based on OEM requirements)
Additional Benefits
Reveals partial discharge activity and deterioration in windings, blocking and core tightness which were obstructed by a rotor-in examination

Record of stator core lamination condition

Record of rotor retaining ring, wedge and rotor body condition

Essential documentation to establish a trend report to monitor future deterioration
Ready to speak to a PSG representative about this service? Please visit our contact page to send us a message or call (800) 226-7557 to begin the conversation.