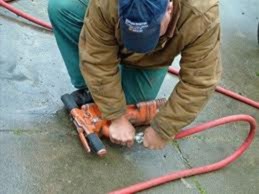 Compressed air is one of the most common shop tools, yet one of the most dangerous. Improper use can maim, blind, or even kill. Always wear eye protection and use face shields when working with air tools.
Danger Point – Accidental Hose Breach
If a compressed air hose is breached, the escaping pressure snaps the hose like a whip, attacking both personnel and equipment. The released air may contain scale from the fixed lines, or stir up loose material which can be driven into the eye like shrapnel. Protect the hose from cuts and blow-outs by protecting it from sharp and burred objects. Make sure there is plenty of slack at the connector — stress at the connector can weaken the hose and cause a blowout. Protect the hose from foot and vehicle traffic. Prevent kinks by coiling the hose when not in use and never hang it over a nail or hook. Use a broad support, preferably a curved surface.
Danger Point – Connectors
A hose is breached each time you disengage the connector. Proper procedure is to bleed out the pressure before disengaging a hose. Shop air outlets should not be "live" but should include a valve before the connector, and a bleed valve between that valve and the connector. If a bleed valve is not available, release hose pressure through an air ratchet or similar tool. Check to see that connectors are fastened securely. As an added safeguard, attach a positive locking device such as a safety clip or retainer at the source and at the attachment. This is especially important when using vibrating attachments such as chisels on a chipping hammer.
Danger Point – Blow Gun Nozzle
The blow gun attachment is a particularly dangerous tool. The air stream can blow an eye from its socket, and/or rupture an eardrum. Air driven beneath the skin can cause internal hemmorage and intense pain. Air that enters a body opening can burst internal organs and cause slow, agonizing death. Air used to clean surfaces can drive particles into the eye. Never use compressed air to clean off your clothes. Keep air pressure below 30 psi when cleaning surfaces or deep holes. Wear cup-type goggles and set up shields to protect passers-by, and others in the area. Never use air to remove dust – it just ends up in your lungs.
Danger Point – Unsafe Hoses
All hoses eventually wear out. Your hose may be ready to fail if you discover:
* cover blisters or lumps.
* cuts or gouges in the hose cover that expose the reinforcement.
* leaks at the coupling ends or anywhere along the length of the hose.
* flattened or kinked areas which have damaged the hose.
* a reduction in flow indicating that the tube is swelling.
When any of these conditions occur, it is good safety sense to immediately remove the hose from service. Once removed, the hose can be carefully inspected and replaced if necessary.
Ask your own safety question by contacting Mr Turbine.
http://www.powerservicesgroup.com/wp-content/uploads/2017/01/logo.png
0
0
Mike.Lake
http://www.powerservicesgroup.com/wp-content/uploads/2017/01/logo.png
Mike.Lake
2020-07-28 15:21:16
2020-07-28 16:22:24
Compressed Air Danger Points