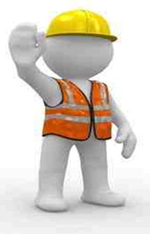 At TGM, our motto is Safety, Quality, Production . . . In That Order! We currently have:
Zero OSHA Recordable Accidents for 528th Consecutive days!
Safety is Turbine Generator Maintenance's top priority. TGM puts safety above all other considerations and expects that devotion from every TGM employee. Please see our dedicated Safety section of our website for more information on TGM's Safety Program.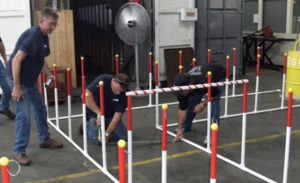 COMMON SENSE AND ACCIDENT PREVENTION
The experts say at least 80% of industrial accidents are caused by unsafe acts on the part of employees–and not by unsafe conditions. Here are a few actions, paired with safety suggestions:
Being in a Hurry – Don't let the concern for completing a job quickly overshadow safety.
Taking Chances – Daring behavior or blatant disregard for safe work practices can put the whole work team at risk.
Being Preoccupied – If your mind is troubled or distracted, you're at risk for an accident.
Having A Negative Attitude – Being angry or in a bad mood can lead to severe accidents because anger nearly always rules over caution.
Failing To Look For Hidden Hazards – Always be alert for changes in the jobsite environment. Hidden hazards include spilled liquids, out-of-place objects, unmarked floor openings, etc.
Awareness of your environment, self-preservation, and concern for your fellow workers are all factors in good common sense. All workers can prevent themselves from getting hurt.
https://www.powerservicesgroup.com/wp-content/uploads/2022/09/psgLogo.png
0
0
Mike.Lake
https://www.powerservicesgroup.com/wp-content/uploads/2022/09/psgLogo.png
Mike.Lake
2012-03-10 18:24:03
2017-03-10 18:24:34
Safety Tips