We were recently contracted to perform a modified Combustion Inspection on a Westinghouse 251B Gas Turbine by a customer in the United States.  Below is a summary of the activities we completed during this inspection.  All activities were completed with an attention to safety, and our quality processes, to ensure a successful outage completion.
Upon arrival for setup of tools the unit was shut down and locked out to perform the inspection. The necessary roof sections were removed for crane access to disassemble the components. All combustion parts were removed and replaced with new/refurbished during the inspection – pilot nozzles, support housings, baskets and transition pieces.
During this outage, the upper half compressor case was removed for the inspection of the R1 – R7 in the compressor section.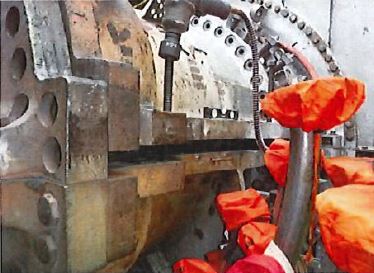 During this inspection, due to the condition of the compressor it was decided to remove two bottom R-1 vanes (#21 & #22) for a visual inspection and then reinstall.
The inlet access door was removed for inspection of the inlet scroll and the Inlet Guide Vanes. The Inlet Guide Vane angles were checked and verified. The row #1 compressor blade tip clearances were also checked. The Inlet Guide Vanes were greased after inspection. The inlet was cleaned and visually inspected by the plant personnel and our Technical Field Advisor prior to closing.
The exhaust was opened, and the bullet cone inspection cover was removed for inspection of the exhaust bearing pedestal. The exhaust struts were inspected, and cracks were repaired as needed by the site welding contractor.
The end result was another successful turbine inspection – zero safety incidents, quality work, and an on-time and on-budget outage completion.
http://www.powerservicesgroup.com/wp-content/uploads/2017/01/logo.png
0
0
Mike.Lake
http://www.powerservicesgroup.com/wp-content/uploads/2017/01/logo.png
Mike.Lake
2020-06-18 17:19:04
2020-06-18 17:19:04
Westinghouse 251B Gas Turbine Inspection