We recently completed the manufacture of a new HP Nozzle Block for an industrial steam turbine customer in the Southeast U.S.   The project initially called for a modification of the existing HP Nozzle Block in order to complete a rerate of the steam turbine.  With the initial inspection showing damage to the components however, manufacturing a new HP Nozzle Block became justifiable.  A brief overview of the scope of work, and photos of the newly manufactured HP Nozzle Block, are below.   If you have any steam turbine component rerate or manufacturing needs please contact us to learn more about how we may be able to assist you in achieving your objectives.
1. High Pressure (HP) Nozzle Block
1.1. The original intention of the rerate plan was to blank off nozzles to reduce flow area; however, given the need to re-blade the 1st stage wheel due to damage it became justifiable to manufacture a new HP Nozzle Block with a reduced nozzle height.
1.2. The new HP Nozzle Block was manufactured with the same number of nozzles as the original (i.e. 66) but with the nozzle height reduced to .462".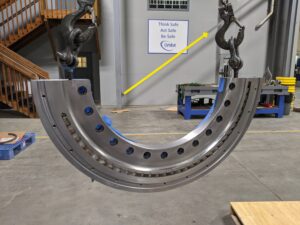 Figure 1: New HP Nozzle Block Manufactured
1.3. A new windage shield was also manufactured to maintain the design clearance to the OD of the 1st stage wheel.
1.4. The new Upper Half HP Nozzle Block was blue checked for contact and installed to the Upper Half Casing.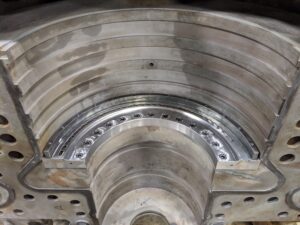 Figure 2: New HP Nozzle Block installed
1.5. The new Lower Half HP Nozzle Block was shipped to site for contact check and installation by the PSG Turbine Field Service team.
https://www.powerservicesgroup.com/wp-content/uploads/2017/01/logo.png
0
0
Mike Lake
https://www.powerservicesgroup.com/wp-content/uploads/2017/01/logo.png
Mike Lake
2021-03-05 11:03:02
2021-03-05 11:03:02
Steam Turbine HP Nozzle Manufacturing