Many turbine outages this spring have been postponed, and we have a solution to provide peace of mind and mitigate the risk of postponed maintenance.
Your turbine may now be at the point where damage to the internal components could accelerate during this extra runtime. Or perhaps the turbine is operating optimally and the postponed outage was intended to satisfy time-based maintenance requirements. Regardless of how your turbine was operating prior to the postponed inspection, a Running Condition Assessment can provide you (or your insurance company) with the peace of mind that the unit is not nearing a failure point, and provide you with the information needed to properly re-schedule your future outage date.
A Running Condition Assessment allows you to assess the health of your turbine generator while the unit is in operation.
This assessment typically includes one specialized technician and equipment at your facility for 3 – 5 days, minimizing the people and time on-site as compared to a standard turbine inspection.
After completion of the Running Condition Assessment you will receive a detailed report on the current condition of your turbine, providing you with vital information for future decision-making.
To learn more about our Running Condition Assessment program, CLICK HERE.
To request a quote and check availability for a Running Condition Assessment, CLICK HERE.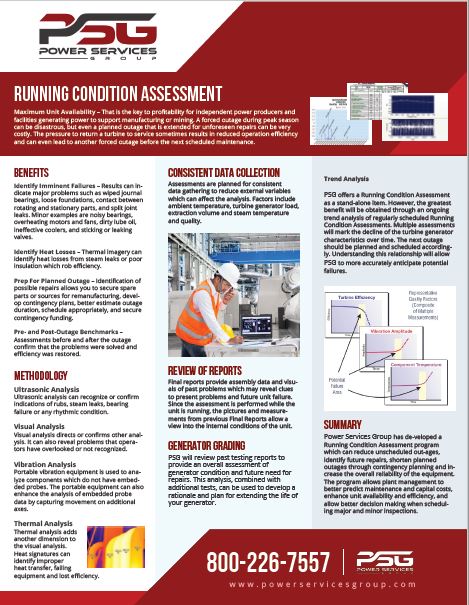 http://www.powerservicesgroup.com/wp-content/uploads/2017/01/logo.png
0
0
Mike.Lake
http://www.powerservicesgroup.com/wp-content/uploads/2017/01/logo.png
Mike.Lake
2020-04-17 16:57:41
2020-04-17 16:57:41
Has your steam turbine outage been postponed?